Gary Soileau Community Center
Our community center is a place for all of our citizens to meet, spend time together, share a coffee and maybe a game of cards or a debate about local politics. With a full kitchen, stage and dressing room, the main room in the community center has a maximum capacity of 350 and hosted everything from computer classes to anniversary parties. No matter what the reason, this center provides a perfect meeting spot for residents of all ages.
It is the desire of the town that this facility is kept in the best possible condition so that everyone may enjoy the space, convenience, professional amenities, and overall quality that facility of this type provides. Please read the following rules and regulations carefully and please note that the interior of this facility maintains a non-smoking status. Groups or organizations renting the community center are hereafter referred to as renters.
Permission for use of the building will only be granted to responsible adults at least 21 years of age. Use of the room wil be determined on a first come first serve basis.
$200.00 Deposit to cover cleanup and damages
$700.00 for up to 6 hours
$50.00 per hour after 6 hours
$200.00 For rehearsal supper the night before a wedding. Maximum 4-hour rental
***Renters will be responsible for all cleanup and damages***
There will be an 11:00 P.M. curfew (no exceptions) because of the proximity of the facility to residences. Building must be cleaned immediately after function.
Request for use of the building will be weighed and either granted or denied on an individual basis. The Mayor and Council reserve the right to deny any individual, group or organization use of the the building for any function. The Town of Krotz Springs also reserves first rights to use of the facility for town functions.
The building cannot be rented more than 1 year ahead of time. The kitchen includes a 10-burner gas stovetop, dual ovens, commercial refigerator and trash containers. There are 19 round tables that seats 8 people and 6- 8 foot tables. Absolutely no alternative cooking devices are allowed in the kitchen area except for electrical warming devices, which will not damage surfaces. For your use, the covered patio on the NE side of the building is the alternative cooking area. This includes pit cooking, boiling and frying containers.
The center is located at 216 Park Street, Krotz Springs, Louisiana 70750
A copy of the rules and regulations and contract can be picked up at Town Hall, for more information call 337-566-2322.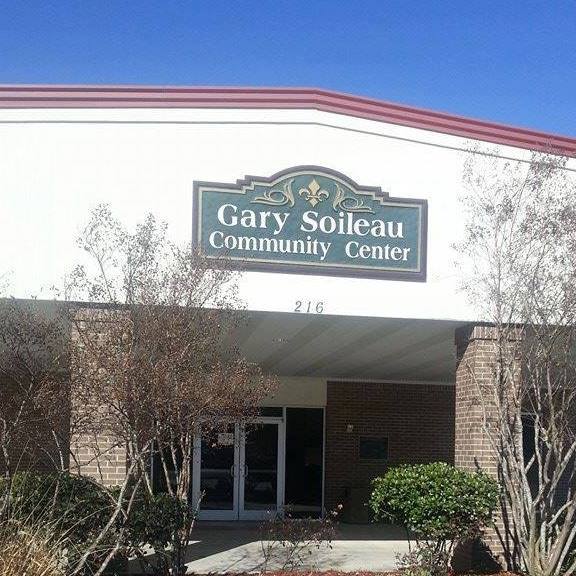 Locations
Gary Soileau Community Center
216 Park Street
Krotz Springs, Louisiana 70750
337-566-2322